We Are Eavestrough, Soffit & Fascia Experts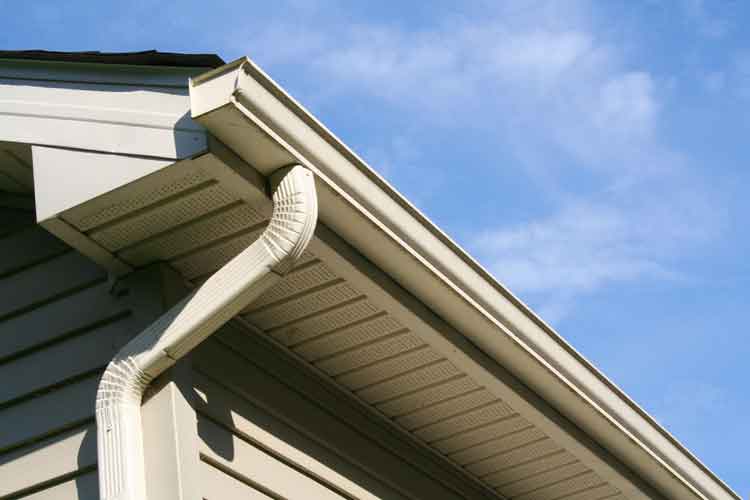 Your roofing system consists of more than just the asphalt shingles, underlayment and decking. In fact, there are other components that work together with your roofing system to ensure that your home or business is protected from all types of weather, especially water damage.
The eavestroughs work to ensure that moisture coming off your roofing system moves to the downspouts. The fascia is located where the roof meets the walls of the house, and the soffit is located beneath the rafters.
The Purpose of These Components
DR Roofing Inc. has been working on roofs in the Blenheim, Chatham and Kent areas for many years. We specialize in asphalt roofing services, and we can also handle any soffit, eavestrough and fascia needs. To better help you understand the importance of these components, here's an overview of each.
Eavestroughs ensure that water doesn't back up onto your roof and cause leaks. They are responsible for making sure that all moisture is funneled safely away from your structure via downspouts.
Fascia boards are attached to the lower ends of the roof trusses and help to support the bottom row of shingles. They also are responsible for holding up the eavestroughs. Therefore, they must be strong enough to support the weight of these components and any water running through the eavestroughs.
The soffit is mostly located on the underside of a roof, but it can also be added underneath any place that has a ceiling, including porches and arches. It's designed to improve the appearance of these areas while also covering any exposed beams and preventing water damage.
For Complete Roofing Services, Contact Us Today!
Ensure that your roofing system can last its full lifespan by investing in quality support components – and getting them installed by the local experts at DR Roofing Inc.. Call us at (519)-350-5678 or you can fill out our online form.